Il Pagnotto, range of fresh Italian sandwiches filled for all tastes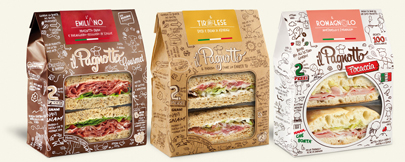 Hunger is knocking? Are you looking for ideas of a snack which is altogether practical, tasty and wholesome? We have the right response: IL PAGNOTTO. We are talking about the range of fresh and healthy sandwiches, characterized by a rich filling of rigorous Italian origin.
For those to love the simplicity and the tradition of homemade sandwiches we have six references of the Classico line of Il Pagnotto of 160g: il Primavera with cooked ham and tomato, il Mediterraneo with tuna and olives, il Genovese with pesto alla Genovese and mozzarella, il Toscano with porchetta and mushrooms trifolati, il Tirolese with speck and asparagus cream, and l'Italiano with cured ham and eggplants. If, on the other hand, you like to experiment and are very demanding, we propose our products of the Gourmet line, characterized by a richer filling (200g): l'Emiliano with cured ham and cheese cream, Il Verdiano with San Secondo cooked shoulder and shallot cream, and l'Alpino with bresaola and artichoke cream.
Last, but not least, we also thought of those who, as the little ones, to the classic sandwich prefer the taste and the softness of focaccia bread: so you have Il Contadino with salame and cheese and Il Romagnolo with mortadella and cheese.
Distributed by Parma Is, the three lines of Il Pagnotto range are capable of satisfying everyone's needs. Are you now curious to taste our new fresh filled Italian sandwiches?