A 50-year-old story: letís celebrate together at CIBUS!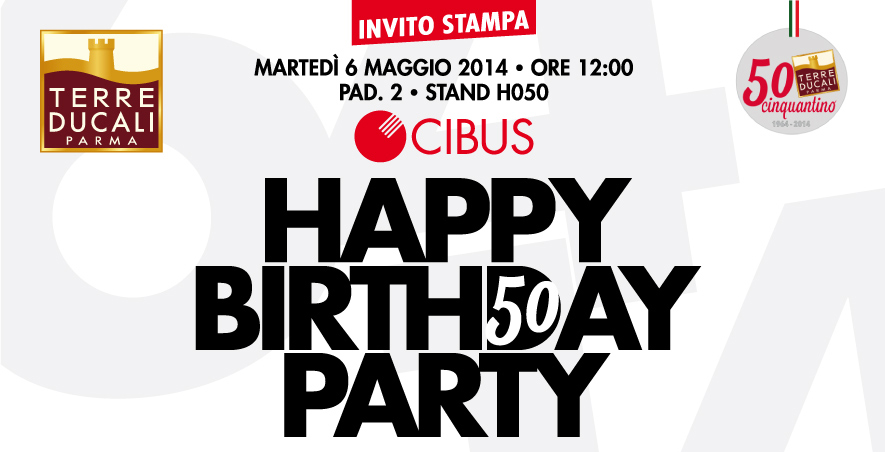 Fixty years. It has been a long way we have gone through here at Terre Ducali since 1964 until today. A path which had as guiding stars the perfect mix of tradition and innovation, the attention for the quality of raw material and the production process, a rigorous traceability of the food chain and the respect of the environment. All factors which contributed to make Terre Ducali one of the most prestigious and dynamic Italian companies in the business of deli meat production.
The time to celebrate our accomplishments has arrived. We will do it at Cibus, the International Food Fair taking place from 5-8 May 2014 in Parma, Italy. We will take advantage of the presence of sector operators, of specialized press, of our friends and of those who appreciate the quality of our products. We will wait for you every day, from 11.00-15.00, at stand H050 on the 2nd Pavilion, to toast together with special cocktails prepared by creative barman Giacomo Dall'Aglio. You will be able to taste the best of the tradition of the Food Valley labeled Terre Ducali: from the Prosciutto di Parma DOP, to the Salame Felino IGP, from the Coppa di Parma IGP to the Strolghino di Culatello.
Save the date for the important event of the celebration at 12.00 on Tuesday 6 May: we will present in preview "Il Cinquantino": a small Culatello Salami, created to celebrate our fifty years of history and accomplishments.